Workbooks
BTEC Level 3 Nationals
We provide a student workbook and a teacher workbook for the Evidence Collection and Analysis/Investigation Procedures units in BTEC Nationals Level 3 programmes:
BTEC Applied Science 2016 Unit 23 Forensic Evidence, Collection and Analysis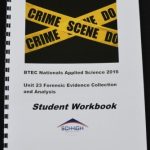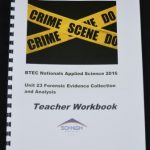 BTEC Criminal and Forensic Investigation 2018 Unit 4 Forensic Investigation Procedures in Practice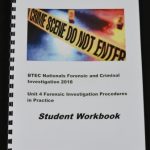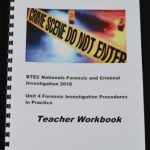 The student workbook has more than 110 pages covering all the learning aims of the unit and provides a guide through all the operational aspects of an investigation of an aggravated burglary. It includes a large number of short written exercises for students to carry out and identifies specific areas of research which when complete provide a strong basis for assignments. Prepared by a degree-qualified professional forensic scientist, the workbooks have throughout a strong real-world emphasis and thus provide an employer perspective in the delivery of the programme. Their use has been referred to very positively by a BTEC Standards Verifier.
The teacher reference provides comprehensive answers to all of the exercises in the student workbook and assists in the planning and monitoring of the unit.
There is an additional workbook for all three programmes providing exercises to support those students who are aiming for a distinction marking.
When we attend a school or college for an event day in support of a BTEC Nationals programme, carrying out crime scene work and evidence analysis of a simulated aggravated burglary, the students complete parts of the workbook during the day. They then have further work to do on the workbook after the event day.
The workbooks can be purchased separately from an event. Just email for more information or to order.
We can also provide workshops to support the Fire Investigation units of these programmes. Delivered by a degree-qualified fire scene examiner the workshops cover all the main aspects of fire science and scene investigation together with case studies.
————————————————————————————————————————————–
Criminal Justice System
We provide a 30-page student workbook on the Criminal Justice System in England and Wales. It has worksheets and exercises for completion on CJS Agencies; Interactions between CJS Agencies and Forensic Science; Professional Ethics; The Expert Witness; The Forensic Science Statement; Types of Crime; Interpretation of Evidence; Courts in this Country; Roles and Responsibilities in Court; The Trial Process; The Investigation of Crime; Quality and Significance of Evidence; Interview Techniques for victim, witness and suspect; Sentencing; Crime Prevention; Treatment.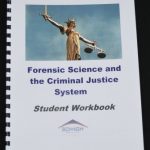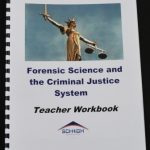 Maths exercises on alcohol levels in drink-driving and DNA interpretation are available also.
—————————————————————————————————————————————-
Free Workbook: We provide a unique free question sheet workbook suitable for secondary school students which is completed by answer selection. It provides an up-to-date introduction to the following forensic topics:
Crime Scene Examination; Locating Blood Deposits; Blood Grouping; Blood Pattern Analysis; DNA; Fingerprints; Saliva; Footwear Impressions; Hair; Glass; Paint; Instrumental Chemical Analysis; and Digital Forensics.
Key facts relevant to modern professional forensic science are provided for all these topics resulting in a sound foundation for school forensic science projects and curricular forensic science. Answers are provided in the Teacher workbook.
To obtain the workbook, please email us with your request and we will email the workbook to you without delay. Please note that the workbook is only for teachers so please provide the name of your school when you contact us.