CSI Forensic Science Workshops for Primary Schools
Whodunit Enrichment Events and Workshops
A fun and exciting CSI event for primary schools that has received very positive feedback from pupils and teachers throughout the UK. Great science and loads of fun.
a crime scene examination, lots of forensic practical and role-play

a role-play courtroom trial in full-day events

pupils in crime scene attire and costume

events tailored for all year groups Y1 to Y6

events from one hour to a full day (full day Y5 and Y6)

delivered by professionals having excellent communication skills with primary school pupils



Event Content
(i) Half day and full day events
Pupils investigate a crime that has occurred at the school. You can choose either a burglary or a kidnap scenario – these are two different events involving different types of evidence. The police have three suspects. Students must find out exactly what happened on the night of the crime and who was responsible.
Pupils examine the crime scene in full crime scene attire of white suits, masks and gloves. A police officer role-play takes place. Then there is a lot of forensic practical: fingerprints; blood patterns; footwear marks; handwriting comparison; paper chromatography; physical fit evidence; weapon examination, DNA, digital forensics, special imaging, code breaking and a mystery substance.
Pupils work in teams with everyone fully involved and busy. They role-play scene of crime officers, a police officer, the suspects, a mysterious visitor and the personnel in the courtroom trial.There are many twists and turns in the whodunit storyline as the evidence is examined and some big surprise outcomes!
Then, in full-day events, there is a role-play courtroom trial with students as judge, jury, barrister, accused, police officer and usher. There are scripts specially designed for primary school pupils plus the opportunity for pupils to show their own knowledge. There's plenty of humour as well. In half-day events, a judge appears to pass sentence on the guilty.
(ii) Events of up to two hours
In these events, for the younger year groups, pupils search the crime scene and then carry out fingerprint work, jig-saw fit evidence, a handwriting examination of an anonymous letter and ink chromatography. A very busy and energetic event with everyone involved in finding evidence and identifying who carried out the crime!
Benefits of the Events
Benefits of the events are:
* they can be a cross-curricular initiative with literacy, numeracy and drama and can form a basis for many follow-up activities
* they offer many photographic opportunities and can be used to publicise science at your school through the press, on the school website and in newsletters
* they demonstrate innovation to parents and governors
* they provide expert CPD and support to your science leader
* they provide ideas for activities at your science club
* they demonstrate a science initiative as part of whole-school development
* we can provide free ongoing consultancy on delivering forensic science activities.
Requirements from the School
We bring all the resources. We just ask the school to provide projection facilities and white paper. The events can be held in a hall or, for smaller pupil numbers, a classroom.
Example delivery models
One group of up to 70 students all day (Y5, Y6)

Two sequential events in a day with 30 students in each event (Y4, Y5, Y6)

Three one hour events (Y1, Y2, Y3); one two hour event (Y4, Y5, Y6)
These are just examples. A day's event package can be specifically designed for your purposes.
At every event, the school receives a free copy of the activity book 'How to be a Forensic Scientist', specially written for primary schools by Simon Shawcross of Sci-High. An introduction to all the major areas of forensic science including crime scene work, fingerprints, DNA, footwear marks, computer forensics and giving evidence. The book is packed with questions, exercises and activities that are ideal for following up on an event and completing a forensic science project.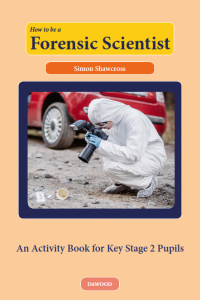 ENQUIRE TODAY – just email or call, with no obligation, telling us the name and location of your school, the year group of the pupils, a date or dates that are suitable for you, how many pupils you would like to attend and whether you would like a full-day event or two or more sequential events in a single day.