Feedback
Feedback on Forensic Science Events from secondary school students. Scroll down for primary school feedback and teachers' feedback.
"I thought this event was great and learnt what happens in the process of evidence"
"It was fantastic! I have learnt a lot about forensic science and I would really like a career. I am pleased that a forensic scientist can spread and teach us his knowledge. I liked the fingerprints and footprint work"
"It was a great experience and really enjoyable and I'm sure the skills I learnt will become useful in the future"
"I found that evidence can be collected from many different sources and lots of other forensic topics"
"I learnt a lot from the talk at the start"
"I did enjoy the event today and I think I learnt more from it because it was fun than if it was not fun"
"I thought it was really fun and energetic and I loved the court case when I was on the jury"
"My feeling overall about this was fantastic. It was extremely enjoyable"
"I learnt how Crime Scene Investigators work and what equipment they use to find the suspect"
"I enjoyed the event because it showed me how much work goes into forensics"
"The best bit about the event was taking the evidence from the window e.g. blood and cotton fibres"
"I liked being a witness best because I got into character well and enjoyed it"
"It was really good fun and I learnt lots from it. It was good how we did all the stuff"
"I enjoyed this event as there was much to do. The best thing was finding fingerprints and then making our own"
"I think this event is very educational and very enjoyable. I cannot choose which activity I liked best because I enjoyed all of them"
"The event was fun and it was interesting to find out the clever things forensic scientists do"
"I thought that the event was very good and exciting. I have learnt how to show fingerprints and footprints with types of equipment. The best thing was the courtroom debate"
"I learned a lot about DNA and people's fingerprints. It was very funny"
"I learnt how to take fingerprints, footprints and how it really is in court"
"I think it was superb. I learned lots of techniques which forensic scientists use and it was fun"
"It was really fun and it has really helped my science"
"I thought it was one of the best things ever. I have learnt how forensic scientists work crime scenes"
"It has been a brilliant activity and has opened up my eyes to forensic science. I have learnt a lot in a fun,enjoyable way"
"I liked the marshmallow suits"
"I thought it was fantabilosush and I want to do it again"

Teacher Feedback
The CSI Day was a huge success. Our Year 5 pupils had a fantastic day. Primary school in Blackpool
The day was fantastic and I have received so much positive feedback from children and parents. Prep school in Essex
It was brilliant and the children were all telling me how they really enjoyed it. They all got dressed up to look the part and managed to piece together all the clues to narrow down the suspects. Year 6 Teacher, Primary School in Oldham.
The feedback from the two days you did with the KS3 students was brilliant. Special School in East Sussex
Thank you for a wonderful day with our KS2 pupils. They loved it. Primary School in Bradford
Many thanks for the forensic event for our Super Learning Day. The students had a fantastic time and I was so pleased with everything about the day. There was a wonderful picture of the students fully suited up and looking for evidence which won the photo contest for the day. Academy in St Helens
I would like to say how much we enjoyed and valued the forensics day that you put on at our school last year to support our BTEC science students. It was a great help to the students and allowed them all to progress and complete their module on crime scene investigations. We would love to have you back to run the same event for the next academic year. Secondary school in Mill Hill, London
I am writing to thank you for the fantastic workshops you provided for the Year 8 students. Students and attending staff alike enjoyed the day immensely. Independent secondary school in Sheffield
The event was a big help for our Year 10 students in completing the OCR Nationals Unit 3 assignments. They enjoyed it and the fact that there was so much practical to keep them busy. Academy in Reading
The pupils and staff had a fantastic time yesterday and I just wanted to say thank you. Each class teacher and each class were talking about it again this morning which is fantastic. Primary School in Barking, Essex
The day was extremely well organised and presented. All the Year 9 students were motivated to participate during the whole day. They have talked about how much they enjoyed the event for the next few days. Secondary school in Banbury
The event was a fantastic enrichment day for our Year 9 students who really loved it. Academy in Corby, Northamptonshire
The event was great for our activity week in the last week of term and the Year 9 students really enjoyed it. The trial was hilarious. Secondary school in Christchurch, Dorset
Just wanted to say a big thank you for an excellent day last week – feedback from our pupils has been really good and I am sure that we will look towards a similar event in the future. Secondary school in Sheffield.
It has been a real pleasure for me arranging the events as all the schools you visited have given excellent feedback. Aimhigher Coordinator
The day was extremely professionally run, the students have already handed in fantastic articles for our newsletter. The court scenes were so ad-lib and turned out to be such fun. It was great to see how everything tied up in the end and the jury given the opportunity to decide the outcome. Secondary school in West Yorkshire
Could you run another forensic day for us like the one last year that both sets of students enjoyed so much. Independent school in Cambridge
We like to do a variety of things for science week and the family forensics event you delivered on Saturday morning engaged all the children and the adults very well and was great fun for everyone. Secondary school in Doncaster.
The girls enjoyed the event greatly and it brought home to them what forensic science is really like in a very enjoyable way. Grammar school in Wolverhampton
I was really pleased with how much we got done in the OCR course yesterday and the fact the students were engaged for the whole day. Secondary school in Twickenham
Thanks for yesterday – the event was a great success, the pupils have been talking about it a great deal today. Primary school in Hebburn Northumberland
As your forensic session proved so successful last year I am very keen to book you in this year again! Independent school in Sherborne Dorset
Thank you for your fantastic forensic day. We are planning our calendar for next year and we would like to book you for another forensics day for some time in the Autumn term. Middle School in Staffordshire
Just wanted to say a big thank you for an excellent day last week – feedback from our pupils has been really good and I am sure that we will look towards a similar event in the future. Secondary school in Longton Staffordshire
I would just like to thank you for your visit for our summer school and the Science Forensic day. We received great feedback from both students and staff and felt the day really helped engage students into the science curriculum. Secondary school in Hull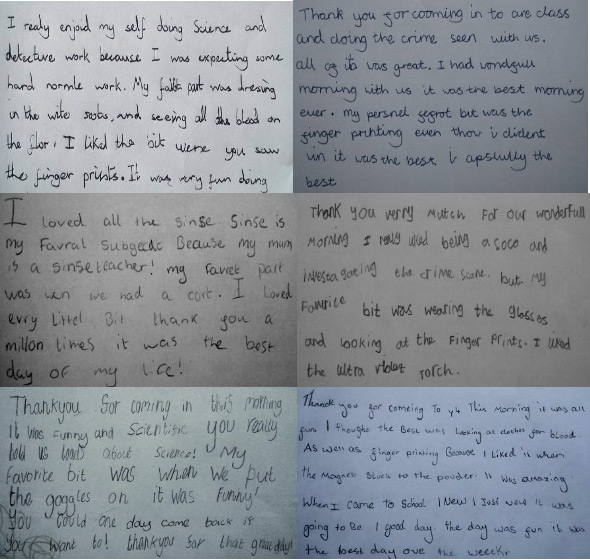 Quiz Answers
1. 2 Locard's Principle
2. 3 Scene of Crime Officer
3. 1 Zone Searching
4. 2 Check the identity of people being questioned
5. 3 Latent prints
6. 2 Arch
7. 1 Precipitin Test
8. 2 Spattered
9. 1 Photography
10. 3 Unusual features of damage can be found on footwear undersurfaces
11. 2 Deoxyribonucleic Acid
12. 2 Electrophoresis
13. 3 1988
14. 1 Has two types of lens – objective and eyepiece – which are used in conjunction to produce an image
15. 2 Has two separate light paths, one for each eye, providing a three dimensional effect in an image
16. 3 Refractive index
17. 3 The structure of the layers
18. 1 Gas chromatography
19. 3 Imaging
20. 3 Never
Your Score
0-5 You are a fledgling forenso. A little more study is required!
6-10 You are a fairly good forenso. You have made a good start in developing your forensic science knowledge. Keep it going!
11-15 You are a funky forenso. Well done – you have good forensic science knowledge. Keep it going!
16-20 You are a fab forenso. Terrific!
To improve your knowledge of forensic science you can purchase two books by Simon Shawcross of Sci-High:
How to be a Forensic Scientist – for pupils age 8 to 12
To purchase the book from Amazon, please follow this link.
Crime Scene Investigation – for students age 15 to 18
To purchase the paperback book from Amazon, please follow this link.
You can visit our books and workbooks page for more info or you can contact us directly about the books or any aspect of our services using the form below.