Top CSI Forensic Whodunit Team Building  Events and Away Days
Loads of forensics and a role-play courtroom trial in costume!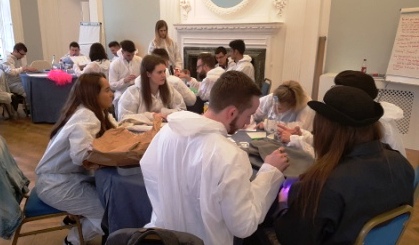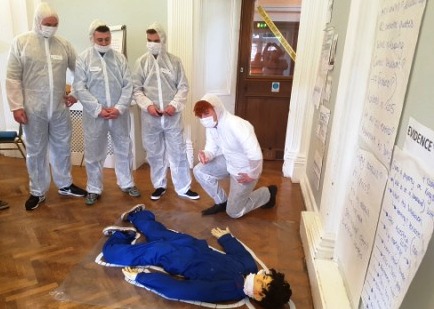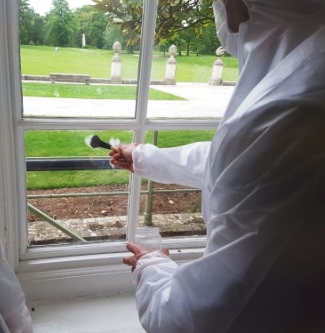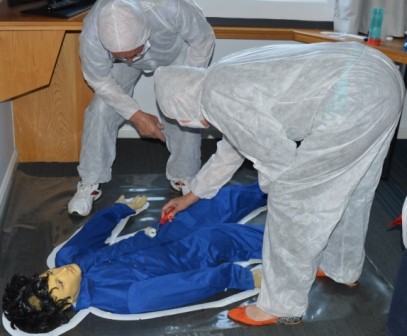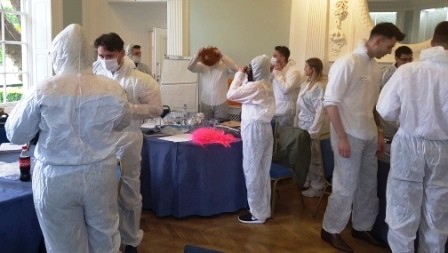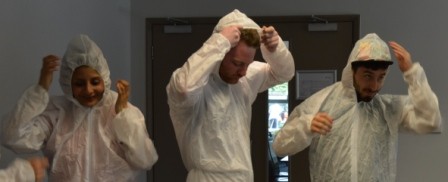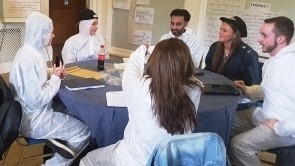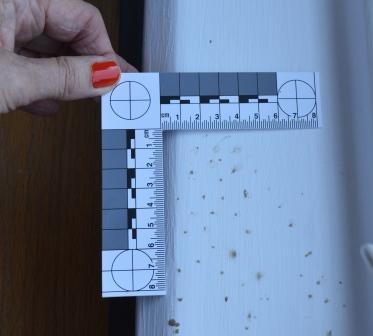 We provide a Corporate Team Building Event titled The CSI Aggravated Burglary Whodunit Mystery. Our aim is to provide a special and memorable team event for adults that requires busy teamwork and delivers a real sense of achievement and, most importantly, loads of fun. Forensic investigations really do need teams with a shared purpose, a variety of skills, excellent communication and good leadership. And we think you will learn a lot of real-world forensic science as well. A successful forensic team investigation brings a really special sense of achievement.
We work in partnership with events companies to provide a complete high-quality event package at a venue of your choice. We can provide events at your own premises also. An event can be delivered with everyone present working as a single team or as a friendly competition with attendees divided into smaller teams.
What happens? There has been a burglary at the venue. A caretaker has been attacked. The police have three suspects. Can your team forensically work out which one did it? Or – perhaps it was none of them and you will have to find someone else! See if you can work CSI style and bring the guilty to justice!
You must examine the crime scene as Crime Scene Investigators.. Make sure you are properly kitted up in white coverall suit, mask and gloves. You must appoint a boss, search carefully for evidence and work out exactly what happened. What does that blood pattern mean? What's that mark on the floor? How was the window opened? Is that a weapon over there?
Now there is forensic practical to do. Fingerprints, shoe marks, a strange letter, DNA profiles, blood patterns and mobile phone messages. You must divide up the jobs and work to your deadline. By putting everything together, the full story can be revealed – with real surprises!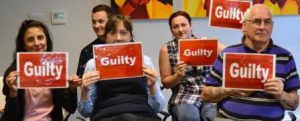 Once all the evidence has been put together, the accused go on trial. Your group must show that you can perform a trial properly with members chosen to play the judge, barrister, forensic witness, police officer, jury, usher and the accused.
The trial is partly scripted, but not completely, so there are opportunities to adlib and display your scientific and legal knowledge. Warning – the trial may well turn out to be very funny so please don't lose concentration – we need a proper verdict delivered according to the laws of justice!
Benefits of the Events
They offer an unrivalled CSI forensic science combination of challenge, fun, role-play and drama

They demonstrate all of the key features of effective teamwork that are required for success

They are well-suited to a mixture of personality types. They benefit from a mixture of doers, talkers, thinkers and analysers! No-one is pressurised to do anything

Working together to act out a courtroom drama is a great way of achieving a sense of communal achievement and well-bein

g
Event Delivery and Booking
We cover most of England, Scotland and Wales. Events can last from one and half hours to five hours. They can be delivered to groups of up to 100 people. For more information, just email or call us, with no obligation, and let us know your preferred date for an event, the anticipated number of participants, how long you would like the event to last and your location. We and our event company partner will quickly provide a quotation for a complete event package.
Feedback
'I just wanted to say a huge thank you for the event you ran for us. The whole team had a fantastic time and were very complimentary about the way you ran the event and tailored it to the specific audience. It was an absolutely brilliant team-building day and I would recommend it to anyone looking for something interesting and different, and suited to all ages and personalities'
'We really enjoyed the event and got great feedback from those who attended'
'Amazing, I learnt a lot and it was energetic, fun and extremely interactive'
'It was a lot of fun and I really learned a lot'
'Very enjoyable and informative'
'Really enjoyed it, was fun and something new'
'Very enjoyable and informative'
'Was good to do something different'