Is your primary school carrying out the Learning Challenge of Could You Be the Next CSI Investigator – or, if not at the moment, is it something that you would like to do in the future?
Sci-High Forensics can set up and strongly support the challenge for you through an interdisciplinary CSI Whodunit Workshop; a copy of the Primary School Activity Book 'How to be a Forensic Scientist' by Simon Shawcross of Sci-High to assist with follow-up work after the workshop; and on-going help and support.
The workshop will fire the pupils' interest in science by showing just what it takes to be a real-world CSI Investigator: practical skills, thinking skills and team working skills!
Your pupils will all be CSI Investigators as they work out what happened during the burglary at the school the previous evening and which of the suspects was the burglar. The role-plays are enhanced by the wearing of professional white coverall suits and other kit. Then, working in teams, the pupils examine lots of forensic exhibits and piece together the findings so that step-by-step the picture becomes much clearer. The practical includes amazing fingerprint work, DNA bar-code profiles, footwear marks, document comparison, ink chromatography, blood patterns, jig-saw physical fits and mobile phone forensics! There are real surprise results to be found, but can the pupils find them?
Finally there is a role-play Crown Court trial with a judge and jury when the people accused of the crime learn their fate! Pupils dress in costume (gown and full-bottomed wig for the judge; gowns, wigs and neckties for the barristers) and find out what all the roles of the different people in a trial are all about.
The Activity Book covers all the major areas of forensic science including crime scene work, fingerprints, DNA, footwear marks, computer forensics and giving evidence. It is packed with questions, exercises and activities that are ideal for following up on an event and completing a forensic science project.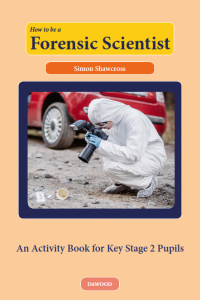 We can also provide a slide presentation as a basis for further discussions of the science, and trial scripts if you want to re-run the trial. Because forensic science has such a range of different scientific areas it primes a variety of learning of other scientific topics. The vivid narrative of the event provides an excellent basis for story-writing, newspaper articles and posters. The introduction to various job roles can be a basis for aspiration exercises as pupils imagine themselves carrying out the work in real life.
We believe that at the end of the project you will have extensive proof that your pupils can indeed be the next CSI Investigators!
We are delivering workshops and programmes throughout the UK in 2020. Our pricing is very competitive. For more information, please email using the form below or ring 07717 822078
Sci-High Events
www.scihigh.co.uk