We are delivering full-day and half-day forensic science workshops for schools in Scotland in 2020 at very competitive prices. Special CSI Whodunits for both primary and secondary schools delivered by professional forensic scientists. The workshops include a wide range of practical work – crime scene examination and forensic biology, physics and chemistry – all tailored for the year group and academic level of the pupils attending. Support is provided for a number of elements of the Curriculum for Excellence, for the RAiSE initiative and for the Developing the Young Workforce programme.
In the workshops, students are challenged to find out which of the suspects is the criminal. By examining the crime scene and carrying out the forensic practical, the answers are revealed step-by-step with some big surprises! Fingerprints, shoe marks, blood patterns, DNA profiles, document examination, chromatography, physical fits, digital forensics and more are involved.
Then there is a dramatic role-play courtroom trial in which we find out if the evidence will produce a guilty verdict.
The activities combine role-play, teamwork and drama alongside great science – interdisciplinary learning in action! The workshops are directly relevant also to other initiatives of enrichment, vocational science, rewards, the promotion of aspiration and careers planning.
We work to high professional standards and have a proven track record in delivering exciting and memorable events. Please contact us if you would like further information.
** New for 2020 – at every event, the school now receives a free copy of the activity book 'How to be a Forensic Scientist', specially written for primary schools by Simon Shawcross of Sci-High. An introduction to all the major areas of forensic science including crime scene work, fingerprints, DNA, footwear marks, computer forensics and giving evidence. The book is packed with questions, exercises and activities that are ideal for following up on an event and completing a forensic science project.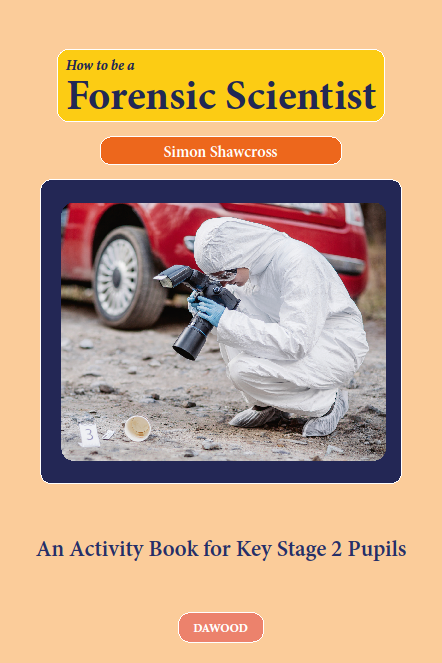 Sci-High Science Events www.scihigh.co.uk e:info@scihigh.co.uk
07717 822078